SOUTHWEST
Guided raindrops grow trees
URBAN FORESTRY DESIGN
CLICK HERE
SOUTHWEST URBAN
Guided raindrops grow trees
FORESTRY DESIGN
plants@sowsfe.com
adaptable
505-819-3769
beautiful
plants@sowsfe.com
smart
Guided raindrops grow trees
SEE OUR WORK
urban forestry design for the
semi-arid southwest
RECENT PROJECTS BY SEEDS OF WISDOM
LAGUNITA RAIN GARDEN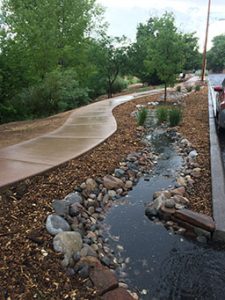 Award winning public space design that capture and redirect rain water effectively to hydrate and nourish gardens and landscapes.
SCULPTURE GARDEN
Seeds of Wisdom was presented with transforming a historic green space into a sacred art garden open to the public, working with multiple stake holders including the property owners and artist, Gib Singleton.
HARDSCAPE DESIGN

Working with clients and our expert stone masons, we can develop natural elegant and lasting stone features for your gardens and landscaping.
CONTAINER GARDEN
Surfaces can become interesting through the use of container gardens.  These incorporate natives, colorful annuals, and can provide big bold color where accents in the landscape are needed.
POLLINATOR GARDEN
Seeds of Wisdom staff includes an expert who holds a Master of Environmental Science in Pollinators. We are committed to integrating natural and ecological principles into our designs including the inclusion of plants, trees, and flowers that attract and feed pollinators.
LANDSCAPE DESIGN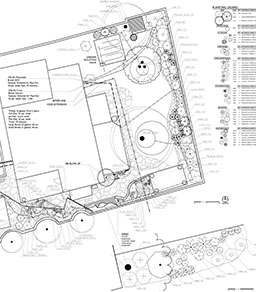 Seeds of Wisdom offers complete landscape design services and can incorporate geographic smart technology for optimal place-based design.  Site specific planning, tree and plant selection, water catchment and hardscaping are integral to our designs.  As-built plans include irrigation layers. We also offer artisan services, integrating site specific, custom art and built features.
SERVICES BY SEEDS OF WISDOM
TREE SERVICES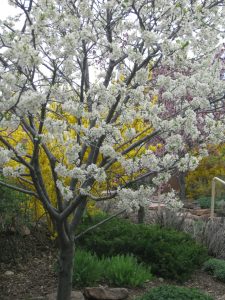 International Society of Arboriculture certified arborist services include tree selection, planting, pruning, diagnostics and care.  Integrated Pest Management protocol focuses on mechanical removal, soil building and water harvesting for tree vitality.
FIRE WISE LANDSCAPE DESIGN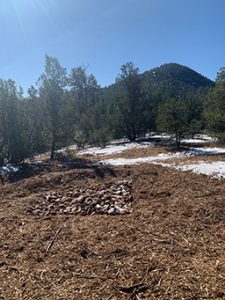 Fire-defensible space project on 19 acres in the wildland-urban interface has received AAA rating from insurance agent and involved collaboration with New Mexico State Forestry Division.  Focus of the project involved selective thinning, especially of poor condition trees, while integrating Abert's Squirrel and other wildlife habitat needs, privacy concerns, and aesthetics.  Final project included use of trimmings for soil stabilization, erosion control and passive water harvesting.
SMART PLANS
Urban forestry planning involves utilizing technology to make strategic decisions.  Tree inventory data development, Geographic Information Science and Systems layering and soil analysis aid in creating long-lasting smart plans.