Owner ISA Certified Arborist #RM-7970A
Certified Urban Forester
Professional Landscape Designs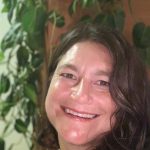 Since 2005, Seeds of Wisdom, LLC builds on the principals of Urban Forestry Design and Stewardship.  Stewardship allows for continual adaptive management within the struggles of the urban and semi-arid environment.  Green Infrastructure highlights urban forestry design in order to capture water where it falls and direct it toward plants as a primary source of water.
Athena Beshur, principal designer and owner, is an International Society of Arboriculture certified arborist and holds a Master of Natural Resources with graduate certificate emphasis in Urban Forestry.  She uses native and adaptable plants to add to the vibrancy of place-based design.  Her designs emphasize enhanced habitat and help create a sense of calmness and repose.  Public work include management of the Santa Fe River corridor between Sandoval and Guadalupe, Phase 1 of the Guadalupe Credit Union landscape at Academy and Airport Road, the Stations of the Cross Prayer Garden and Jardin de los Santos at the Cathedral Basilica of Saint Francis of Assisi, and the Alameda Rain Garden at El Alamo and Cathedral Place. She holds a bachelor's degree from Tulane University and enjoys playing the clarinet.
This webpage has been developed to highlight southwest urban forestry design. If you have any questions, please contact us.
Joel Arras, Foreman and Arborist Assistant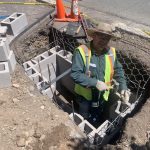 Joel is a veteran in the Santa Fe landscape community, having worked in the local industry for over 25 years. Originally from a small ranch in Chihuahua, Mexico, he grew up tending horses, cattle, goats, chickens, and other livestock. Much of his youth was spent seasonally sowing fields and maintaining small and large vegetable gardens and also making produce to sell at the local markets. He is a family man and a hard worker. He has much experience guiding outdoor projects, and he values hard work and doing the best work possible in the first time around. Joel has a wealth of experience with tree and shrub installation, building green infrastructure, irrigation systems, general maintenance, coyote fencing and fountain work. He has much experience with machinery such as backhoes, skidsteers, grinders and chainsaws; he is also an adept stonemason.
As Foreman at Seeds of Wisdom, Joel is the backbone in the field of many of our projects. He guides and oversees the practical implementation of the work that we do, ensuring that it is done in a way that is not only functional and effective, but also lasting. He often plays active roles in troubleshooting and constructing irrigation and sprinkler systems, and he oversees larger installations that include sustainable green infrastructure and rock work. He ensures that projects are streamlined, and that the work being done is carried out in an orderly and systematic way such that it will be done well.
He is also an accomplished tree pruner, and is at the forefront of tree trimming projects. As Arborist Assistant at Seeds of Wisdom, Joel focuses on maintaining and promoting tree health in diverse landscapes. His efforts often include the removal of dead, obstructive, or intersecting limbs; the therapeutic treatment of diseased and infected trees; or the careful removal of dead or unhealthy trees altogether to support nearby plant life. In concert with the Seeds of Wisdom ethos, Joel applies an ecological approach toward tree health, taking into account the surrounding context within which a given tree, or cluster of trees, thrives. This often involves a careful consideration and evaluation of local plant, insect, and animal habitats, as well as a concern for proximal manmade structures such as houses, fences and walkways. He also routinely constructs green infrastructure technologies for trees.
Marta Gyeviki, Horticulturalist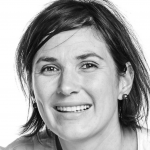 Marta holds a PhD in Horticulture with a focus on Crop and Horticultural Sciences from the Budapest Corvinus University and has served for many years on the Faculty of Horticultural Science at the Szent Istvan University in Budapest, where she teaches semester-long courses in Horticulture and tree care each year. She is a certified Master Gardener, and is a member of the Santa Fe Extension Master Gardeners. She specializes particularly in the care of fruit trees and native shrubs.
As Horticulturalist for Seeds of Wisdom, Marta performs a wide range of specialized and detailed tasks regarding plant selection, identification and care. Not only does she assist with selection of plant species for our design team, she also performs detailed research into the plant species we encounter in the field, which helps us to better nurture and care for our plants in any number of ways. She, in addition, oversees container garden floral designs and plantings, while also advising in key decisions regarding tree and shrub pruning efforts. She identifies and facilitates disease (pest, pathogen or abiotic disorders) of plants, and oversees the care of distressed plants in the effort to facilitate a return-to-health, recovery or therapy-based approach to distressed plants. She attends to garden spaces in private residences with a view to promoting an overall healthy and thriving ecosystem, even at one's home.
Matthew Encinias, Lead Steward and Soil Builder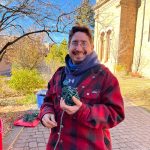 Matt holds an Associates Degree in Applied Science with an emphasis on Sustainable Technologies from Santa Fe Community College. He is currently working toward a Bachelors in Environmental Science from Northern New Mexico College. He has multiple environmental honors and certifications, having received two certifications as Compost Facility Operator, granted by both the Environmental Protection Division and by the New Mexico Recycling Coalition. He has received leadership certifications from SFCC, has acted in leadership positions as a Student Ambassador, and has also completed a year-long apprenticeship in traditional acequia farming and modern market gardening practices through the New Mexico Acequia Association's Farmer Training Program. He's an Honors Scholar for Phi Theta Kappa with an emphasis on
Frontiers and the Spirit of Exploration
. Matt is originally from Chimayo, NM, where he currently resides and operates a farm, experimenting with sustainable vegetable and greenhouse gardening, and with water harvesting and soil enhancing techniques.
As Lead Steward at Seeds of Wisdom, Matt is a multitasker. He focuses on the many features of the ecosystems where we work, with an emphasis on soil composition, while at the same time also handling many everyday details of our projects. His main task involves enhancing soil health through the application of revitalizing nutrients and minerals that promote plant life and contribute to local ecosystems. This includes the application of microbes, fungi, iron, compost, or holistic fertilizer to bolster the soil, but it can also include the application of soil treatments such that it performs better in its water retention or its ability to channel water to or from a source. He often constructs and/or maintains compost stations in gardens, and he instructs and advises clients on how to do so effectively. He regularly applies nutrients to particular plants, whether they be new plantings or existing plants in need of help. He builds sustainable green infrastructure for soil mitigation, erosion control, and water retention. He works closely with the team in order to monitor, diagnose, and treat plant health both above and below ground level.
Becky Touchett, GIS Analyst
Becky holds a masters degree in Geology from the University of Florida with a certificate in Geographical Information Systems from Pennsylvania State University. She has dedicated her career to teaching, consulting, leading and developing geographical information systems.  She held the position of Senior GIS Consultant for the City of Grand Rapids, MI where she integrated citywide data into the ESRI platform as well as GIS Analyst for the City of Holland, MI where she was responsible for designing, implementing and coordinating all GIS related water and wastewater utility information.
Becky served several years as co-leader of the Santa Fe Public Spaces Tree Inventory project, where she was responsible for moving the project into the digital era.  She also held a seat on the Santa Fe Municipal Tree Board for four years.  As the Seeds of Wisdom, LLC GIS Analyst, Becky facilitates the analysis of geographical data for our clients.  She is integral in building the digital framework for the team, and makes possible the development of citywide analysis of tree data. She also volunteers with the Santa Fe Extension Master Gardeners and enjoys spending time with her family.
Interested? We are ready to work!
Smart designs make adaptable and beautiful landscapes.